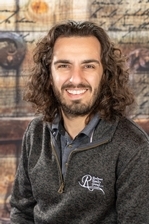 847-571-4348
[email protected]
231 Oneida St.
Minocqua WI, 54548
Receive Email Alerts from Me
After graduating from Northern Illinois University, Chris Nor spent many years living in northern Illinois where he taught Earth and Space Science and Chemistry & Astronomy at Woodstock North High School. Working with hundreds of Freshman through Senior students has given Chris experience managing several personalities and balancing many relationship dynamics at once. 
Now permanently residing in the Northwoods, Chris is furthering his career with Redman Realty Group working closely with his mom and mentor, Denise Hervey. He began his real-estate career interning with broker-owner, Adam Redman, for several summers during his collegiate years which has given him an in-depth lens of the industry. Understanding his customers needs and bringing a calm and level-headed demeanor to all his transactions has made Chris a trusted go-to agent on the Hervey team. As a warm and dedicated professional, Chris brings to every deal his unique skill set, stellar communication skills, and keen ability to connect with buyers and sellers.
Let's get personal!
Chris has been married to his high school sweetheart, Alex, for seven years. They share two sons together, Dashiell and Bryce. When he isn't giving his attention and passion to real estate, he enjoys spending time with his family enjoying the Northwoods lifestyle and playing video and board games. If you love a good board game let him know. He's always looking for a recommendation or an invite!